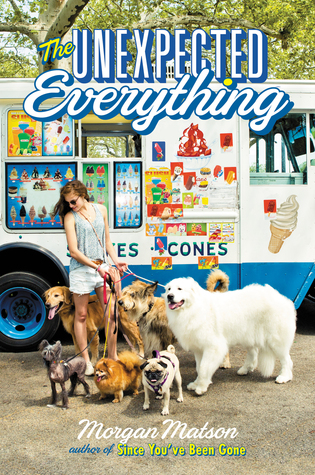 T

itle: The Unexpected Everything
Author: Morgan Matson
Genre: Contemporary
Age Group: Young Adult
My Rating: 3 / 5
Goodreads Summary

:
Andie had it all planned out. When you are a politician's daughter who's pretty much raised yourself, you learn everyt

hing can be planned or spun, or both. Especially your future. Important internship? Check. Amazing friends? Check. Guys? Check (as long as we're talking no more than three weeks).

But that was before the scandal. Before having to be in the same house with her dad. Before walking an insane number of dogs. That was before Clark and those few months that might change her whole life. Because here's the thing—if everything's planned out, you can never find the unexpected. And where's the fun in that?
My Thoughts:
This is one of those books that would be the perfect summer read, like when you are at the beach and want something fun and sweet to dive into. Now you may have noticed that I just called this a perfect summer read, and yet gave it only 3 / 5 rating. Why? Because, while this is a fun, sweet book and there are many aspects of it that I really enjoyed, there were also a lot that I didn't really like. But I am going to start off with the parts that I actually enjoyed.
One of the better aspects of the book would be all the relationship developments. I
loved Andie's group of friends and how they all helped each other out. They were the reason behind most of the humor in the book. What else was nice was watching Andie's growing relationship with her dad, and seeing how the two of them really worked together to mend their broken relationship

.
The writing was done really well, and the story had an interesting premise with Andie trying to get her life under control again, after all her carefully laid out summer plans go out the door. It was fun reading about Andie trying new things and discovering that not only did she actually like it, but was also good at it. Overall, this was a sweet story with a mix of humor, romance, and life
.
Now, onto the reason why I gave this book a 3 / 5. Unfortunately, despite having high hopes for this book, it fell short. I had to pick this book up twice, before I was actually able to get into it and even then it did not really hold my interest at all times. The first time I picked it up, I read a couple pages, and moved on to another book, because it didn't really capture my interest. But after a week, I found myself thinking about the book and picked it up again, this time intending to actually finish it.
However, what I found to be the biggest problem was that the story dragged way too much, and on more than one occasion. It felt like a lot of what I was reading was just unnecessary to the overall story, and just there to add length. It didn't help and half way through, I found myself skipping pages to read what happened next. Even though the writing is great and this book had a wonderful storyline, unfortunately, it was just too much and too slow for me. Normally I'd be able to finish a book this length in about 3-4 days, but this book took me over two weeks to finish.
That being said, if you are looking for a cute summer read, I would still recommend this book because overall it was good, and even though it drags at times, the story itself is worth reading!
Until Next Time!
~ Saptarshi